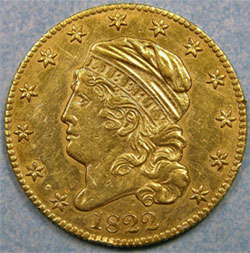 During the course of the broader series, the mintage levels for the Capped Bust Half Eagle spanned a wide range, from less than one thousand pieces to more than a quarter million. While these figures are interesting to study, the mintages by themselves are often of limited utility for determining the rarity of a particular issue. Extensive exportation and melting during this time result in survival rates which often bear little resemblance to the original production levels.
Estimates of pieces known have been used as the primary factor in determining the relative rarity of issues for this series. This is especially the case for the coins struck from 1828 to 1834. During this period, mintages were relatively high, often exceeding 100,000 pieces per year, however, every issue has fewer than 75 known surviving examples. This makes these pieces significantly scarcer than many of the lower mintage earlier dates.
The table below contains the mintage figures for each issue of the Capped Bust Half Eagle series from 1807 to 1834.
| Year | Mintage |
| --- | --- |
| 1807 | 51,605 |
| 1808 | 55,578 |
| 1809 | 33,875 |
| 1810 | 100,287 |
| 1811 | 99,581 |
| 1812 | 58,087 |
| 1813 | 95,428 |
| 1814 | 15,454 |
| 1815 | 635 |
| 1818 | 48,588 |
| 1819 | 51,723 |
| 1820 | 263,806 |
| 1821 | 34,641 |
| 1822 | 17,796 |
| 1823 | 14,485 |
| 1824 | 17,340 |
| 1825 | 29,060 |
| 1826 | 18,069 |
| 1827 | 24,913 |
| 1828 | 28,029 |
| 1829 | 57,442 |
| 1830 | 126,351 |
| 1831 | 140,594 |
| 1832 | 157,487 |
| 1833 | 193,630 |
| 1834 | 50,141 |