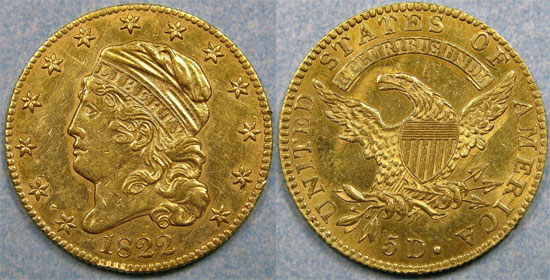 Despite a relatively large original mintage, the 1822 Capped Bust Half Eagle has emerged as one of the most famous rarities within American numismatics. Virtually the entire original production of 17,796 pieces was melted, leaving only three known survivors.
The massive gold melts of the early 1820's occurred when the market value of gold exceeded the face values for the various United States gold denominations. Around this time, the metallic content of the half eagle or $5 gold denomination had risen to about $6, prompting even recently issued coins to be melted. This situation had an impact on many gold issues of the era, with the most extreme situation occurring for the 1822 half eagle.
Of the three surviving specimens of the 1822 Capped Bust Half Eagle, two of the examples reside within the Smithsonian Institution's National Numismatic Collection. The single remaining example was included Louis E. Eliasberg Collection until the specimen was sold at auction in 1982 for $687,500. The coin was finally sold at auction again in 2021, graded as PCGS AU-50 and realizing the incredible price of $8,400,000. This coin remains the only known example in private hands.